You probably know, judging by the long, long list of blogs in the sidebar, that I really enjoy reading blogs as well as writing them. I thought I'd give you guys a peek into what I've been reading lately!
LoveElycia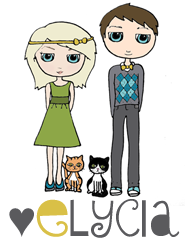 I'm absolutely smitten with this blog and this lovely lady! And that's partially because of her awesome, awesome hair. The other part of the reason is the fact that she writes great little posts about a number of topics and takes adorable pictures and videos. It's a cheerful, lovely blog!
---------------------
One Sheepish Girl
Another lovely blogging lady! Another blog that is all about gorgeous pictures, posts about what inspires her, and posts dedicated to
blogging for confidence
, an ongoing project about boosting self-esteem through her blog posts. And of course, the This & That posts that have inspired me to start my own series of This & That posts.
---------------------
A Playful Day
A Playful Day is a blog that I love for a completely different reason than the above: I love A Playful Day for her podcast! I am a big fan of podcasts, but I'm a difficult audience that wants to be able to do things while listening without missing a lot of your podcast. There are few podcasts that allow this, but the A Playful Day podcast hits that nail right on the head: it's lovely knitting talk, filled with nice anecdotes and reviews and recommendations of patterns that make me want to knit.. well, anything! Give it a listen. And, of course, read the blog too!
---------------------
Untangling Knots
Untangling Knots is written by yet another lovely lady with gorgeous hair. (I think that a generous part of this list may have spawned from some serious hair-envy.) Not only does Andi write great posts about her knitting projects and her forays into crochet, she has written several
mini-series
about the technical side of knitting, such as stretchy bind-offs and button holes. For someone who is not as apt a knitter as she would like to be, this mini-series taught me a lot!
---------------------
Goodknits
And last but not least, Goodknits! This young mom with 2 adorable kids talks life, knitting and crochet, other crafts and photography, and once again it is a gorgeous blog to look at.
---------------------
And that's my list for today! What blogs have you been enjoying lately? Let me know!